:::[July.5.22]:::
The Armada Proudly Presents: The 18th Annual Ye Olde Pirate Party!!!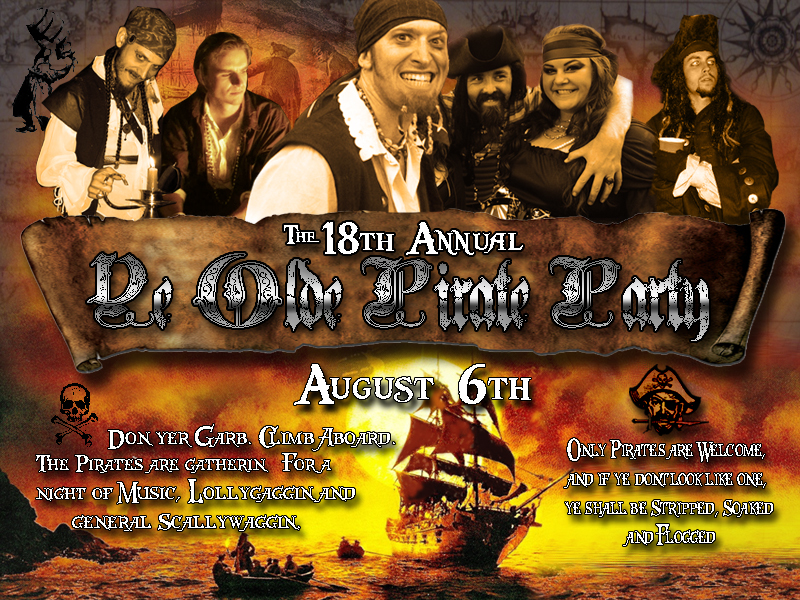 It's not just MY party, its OUR party, So if ye have idea's , booty, or something to contribute send me a crow!
===================================
This year,the 6th of August, we be gatherin once again to set aside our blades and drink up.
It's invite only so dont be blabbin about, nobody be needin rats on their boat.. but ye are me favorites. So, ye be invited.
@ 5.00pm The Ship sails, the grill be pipin hot (I have a grillmaster this year for our safety), and the lollygagging shall begin ??
@6 We ended up with SO much to give away, that as the night progresses we will give a Raffle box out every hour to help loose the loot! Earlier you come, the better your chances to win! (IF ya wish to partake its $5 for a ticket or $20 for 5) All the tickets in the bucket will get mixed up and names be drawn! .. last year we had 15 winners, an when i say prize ye arms shall be loaded ??
@7:00 It be time for the Test of Skill! A sword duel be held apon the plank, climb up and show us who the greatest swashbuckler be this yeaarrrrrr.. (ta enter ye only need ta be in the raffle)
@ just before sundown (8:00) it'll be the time we find the most charismatic of pirates amongst us ?? it be a test of Clothes! Creativity! as well as Character! Judged by yer own peers we'll roust the two best of the lot! (ta enter ye only need ta be in the raffle)
@ Soon after, don yer dancin shoes for ye shall be joined by some belly dancing and fire twirlin ! Lest Not forget all night we'll have Music, and Tarot Readins bein done by our own local gypsies.. Bring yer snacks and as much grog as ye wish to consume.. And if ye like ta pitch into the food table. please Do!! I'll be creatin a world within our own fer lollygagin'... But remember, if ye not look like one of us, ye'll pay the price. ?? see ye tharr.. And please dont be sailing home drunk off yer tits, plan ahead , camping available for the first scurvy dogs to set up tents ?? [lights out by 12]
:::[Aug.23.2021]:::
Monday came and I had 2 goals.. Get my Money back for this Budge brand car cover that is an utter piece of shit. Its rubber coated tissue paper that barely lastest a year. That was a fruitless pursuit as there was no record anywhere of purchase. So i'll just eat the cost of a new one.
The other goal was to spin the Murder Hornet down to Greiners Radiator to talk options of fixing the leak in my radiator. I was not oppsed to a replacement, as a Full block Aluminum radiator costs around $150. As soon as I pulled up i realized Mark Fogg was there. he was the guy that awarded me best hotrod at the Prescott 21 show, who also has a 318 v8 in his truck, So it was great to hear his advice. But the advice wasnt the best part, next thing was Me climbing in his truck for a spin to his shop wear he dug out a stock radiator for the 318 and gifted it to me hoping it would be a solution.. and i think it is!!
So i went home and started the process of flushing the coolant system, only to quickly discover that the heater core is leaking inside the cab.
Let the Bullshit begin. I'm so frustrated lately. I felt like I opened a giant can of worms. So now the rug is pulled up, towels soaking up the water, Fans going in the cab. Wires everywhere. the fans out. the Rycho Switch is on the ground. Water everwhere. I'm tempted to fuck the flush and just yank the old radiator and begin the fitment of the new one.
I'm so easily overwhelmed lately. I'm trying so hard to just consume myself with small projects that encourages me thru accomplishments. Is it the moon? or is everything really breaking in every direction? ..Fuck.
:::[Aug.21.2021]:::
Today me and mom joined Lon and went to the Prescott Car Show.. and we won a couple of trophies! My Car even Earned its name being the Best Murder Hornet of Show. People LOVED the stories about both the hornet and the 52 buick. Even got recognized by a Local Group, The WW Adventurers as their favorite Hot Rod.
:::[July.26.2021]:::
There was a great crash.. i lost alot. data. friends. feelers.. But lets kick it all back into gear with something we know and love. Be Ware.
---